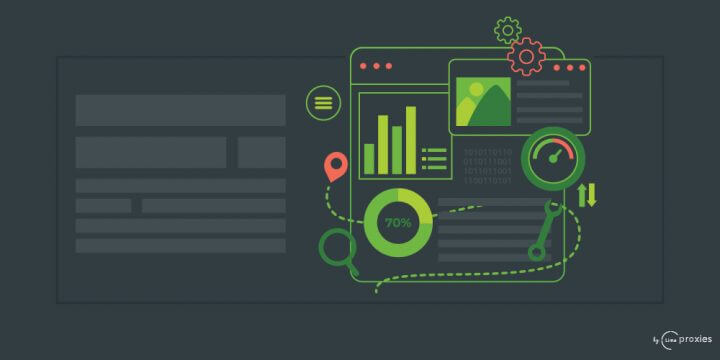 ''According to Andrey Lipattsev, Search Quality Senior Strategist at Google, high-quality content and link building are the two most important signals used by Google to rank your website for search.''
SEO is the game-changer in the content market. From utilizing quality keywords that will trigger prospect attention to ranking a website with the help of certain factors that contribute to the ranking criteria. SEO, in short, is a technique that is progressing better in the field of content.
''57% of B2B marketers stated that SEO generates more leads than any other marketing initiative'' which means if your SEO game is not on point at this current minute, chances are you could be lagging behind your competitors. Despite the truth of how impactful SEO is for a brand, especially in the B2B sector where winning a client is tougher than it sounds to be, the online world makes this process much slower.
The reasons being lack of quality information, restricted sources of information and many more. The online world seems like a freedom platform to access any information which can help brands to grow bigger, but in the crowd, there are vital sources of information that creates a barrier to have a sneak peek at it. 
But before we can jump into the solutions of how SEO can be conducted hassle-free and what solutions make this happen, let's brush the basics first:
Post Quick Links
Jump straight to the section of the post you want to read:
WHAT IS SEO?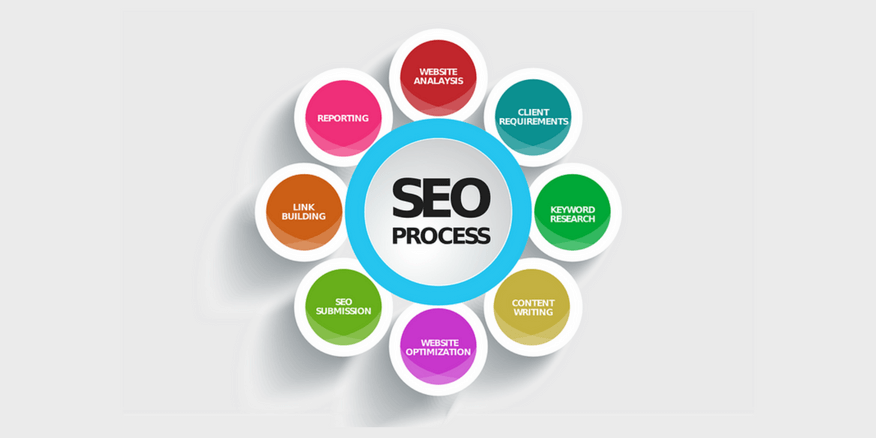 Source: Optron
SEO stands for search engine optimization. As the name sounds it optimizes search engines to rank a website as a top brand so that it appears to the user that this brand is their ideal solution assistant for all prospect queries. Many factors determine an SEO activity, it could be keyword usage, backlinks, blogs with keywords, content which has answers to the common questions and many more. 
To brand any companies product or solution, conducting an SEO activity is one of the most convenient platforms to engage and trigger the attention of potential prospects. With SEO, brands have the advantage of:
Growing quicker
Engaging better with prospects
Capturing leads quicker
Keeping a track of what prospects expect from them
Establishing a healthier growth with organic methods
Let's brands enjoy sales for the longer term with genuine ranking
Gives brands a recognition through the form of content marketing
''81% of people perform some type of online research before making a large purchase'' which means that if brands want to sell their solution before their competitors, they need to keep a closer eye on such prospects that are seeking the exact solution they have. The online world be it on a desktop or a mobile has made seeking solutions a hassle-free task.
With a tap of a button you can easily find a solution, but with so many solutions available online, how can you possibly outsell them and bring your content forward to your prospects?
Another obstacle here is how can you possibly found out what the prospects will search? What keywords would they use and how can brands find out all these vital information without having to seem suspicious?
The answer lies in proxy servers.
WHAT ARE PROXY SERVERS?

Source: Seobility
Proxy servers conduct a process where any brand can access information from restricted locations and websites without having to proclaim their identity or be subjective of any risk. Proxy servers are a great mechanism that lets brands conduct efficient online activity easily and grow their brand without having to fear anything surrounding the action.
As mentioned, a solution that can help you track what prospects will type in that search engine to find you or what links can help promote your content better lies in the process of 'web scraping'. Web scraping is a process that allows brands to extract data from any source and save it in the system to monitor and apply the solutions in their product or service.
Web scraping, when conducted with proxy servers, can yield higher benefits such as:
It can prevent any identity hassles
It lets you scrape even the restricted websites without any problem
It acts as a shield to eliminate unnecessary access to malicious sources of information
Proxies for SEO monitoring can work wonders when a brand's main objective is to successfully grow and capture leads via the SEO route. With proxy servers, brands have the liberty to engage with prospects better, rank their website higher and receive organic traffic as well as genuine leads with all the SEO activities being conducted. Proxies for monitoring this action can bear a fruitful revenue for all the brands who begin implementing the next actions.
HOW PROXIES CAN HELP IN CONDUCTING EFFICIENT SEO ACTIVITIES?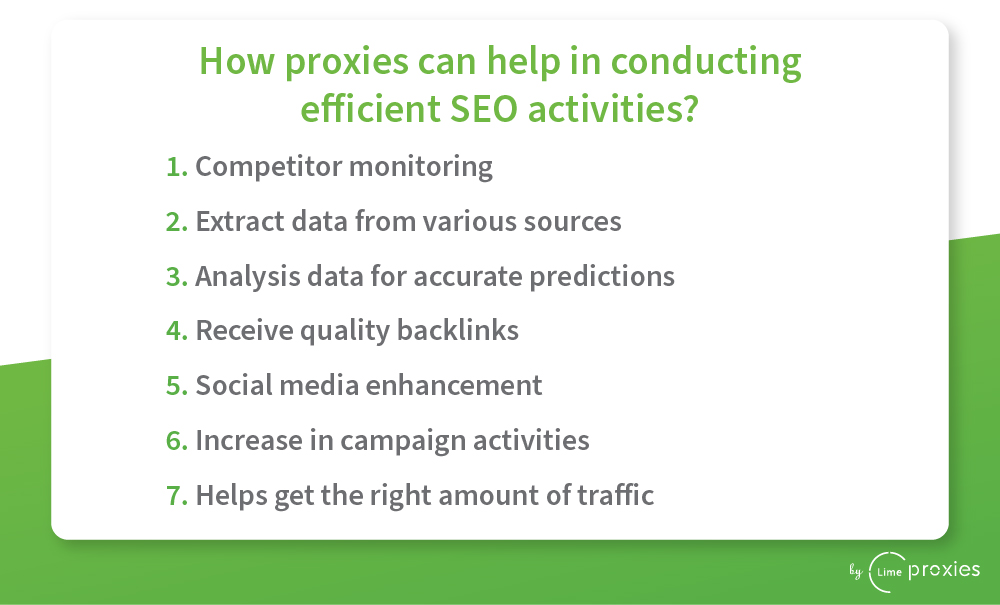 1. COMPETITOR MONITORING
To conduct efficient SEO activity, the right keywords which prospects will search for, the right topics which prospects will want to read on blogs and the right content framework which will attract prospects all can only take place when the right data is at hand. How can brands outsell competitors with real data? By retrieving competitors data via web scraping. With web scraping, you can easily extract information from your competitors and save it in your system for better improvisation of your current solution.
While the scraping activity goes on, proxy servers ensure that all of this is conducted with pure anonymity and without any errors. When the data scraped has all your competitor's information, framing a good SEO strategy becomes more confident and successful. 
2. EXTRACT DATA FROM VARIOUS SOURCES
As mentioned earlier, data scraping can be a great solution to conduct SEO activities more accurate. With the data scraping process, brands can easily scrape through any data of their wish including even restricted websites so that SEO activities can be conducted better. Whether it is targeting the right keywords to rank an article or finding the right backlink which will showcase the content as a well-known expertise source, all of these actions require the data that will help in giving the expected outcome. Data scraping ensures that expected outcomes are met because the data-driven are from sources that have implemented the action and have seen progressive results. 
3. ANALYSIS DATA FOR ACCURATE PREDICTIONS
Data mining helps in analyzing data so that likely predictions can be made.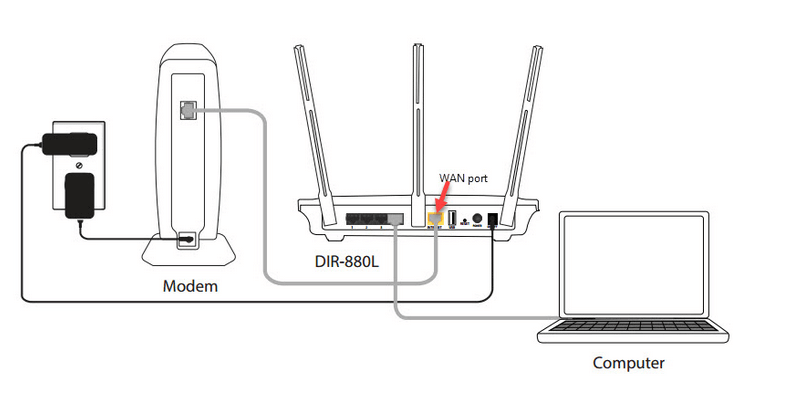 Source: Digital transformation Pro
For instance with data mining, analysis can be made of how the SEO activity looks like a few years from now, would SEO stress more on video content or podcasts would be the next efficient SEO activity space and other factors. This is crucial because the market keeps changing and it is important to be prepared for the new changes well in advance. Again for data mining to be conducted it requires data from various sources which data scraping can provide.
Understanding that it is a lot of data to retrieve from various sources, this doesn't put any restriction on the process with the help of proxy servers. Retrieve any data you require which can benefit your SEO activity at the moment and refrain from the fear of IP addresses being blocked or identity being revealed because the greatest part about proxy servers is that it eliminates both the actions from happening. 
4. RECEIVE QUALITY BACKLINKS
Backlinks are another great asset for brands because it helps in the ranking of the content. When the right backlinks are placed in the content, the article gets viewed, shared and spoken about much more due to the impactful backlinks it shares. For instance, when you apply a backlink from a well-known website, the content appears from the search, chances are the content will be viewed most likely.
Also, at times when the content is shared from the owners of the backlink references you had taken, the content is spread towards a wider audience hence increasing the more prospects outreach. To get such quality backlink, again the action of conducting web scraping can help in the retrieval of it. To secure this action proxy server supports the process throughout. When the content has a lot of traffic being drawn towards the page, the ranking automatically rises. 
5. SOCIAL MEDIA ENHANCEMENT
''71% of consumers who have had a positive experience with a brand on social media are likely to recommend the brand to their friends and family.''
This is why social media monitoring needs to happen and who can do it better than the proxies for SEO monitoring. With proxies, conduct continuous monitoring, share multiple ads, conduct and amount of social media activity without the fear of being considered suspicious or spam. Proxies ensure that whenever any posts have been conducted the IP address would reflect as a different one fooling the spam detectors that all of these activities are coming from different accounts when instead of all it is being driven from one account itself. This can boost SEO activities via social media in an enhanced manner and drive more traffic to the websites. 
6. INCREASE IN CAMPAIGN ACTIVITIES
Campaigns are one of the greatest ways in marketing to trigger the attention of potential leads to a brand's website. Multiple businesses spend ten and thousands of their revenue to create and promote campaigns that will spring back genuine lead captures in return. The need to promote campaigns from one account or maybe just 2 can take place but not more than that. For instance, If campaigns are shared numerous times from one account, the online world considers it as spam and for a company depending on campaigns to source quality leads, this can be a slower growth process but with proxies this is possible.
Proxies for monitoring doesn't just limit to just SEO monitoring. SEO also includes the use of keywords and backlinks which is used in campaigns to extend its outreach further. The constant need to promote it further from one account may not be possible hence proxy servers can help. With proxy servers posting the campaigns from one account is possible. The only thing which will change is the IP address. There are many proxy servers with a tap of a button that can refresh IP addresses so that no matter the number of times a brand promotes campaigns the action will never be caught under the risk of spam or suspicious activities and get blocked. 
7. HELPS GET THE RIGHT AMOUNT OF TRAFFIC
When the traffic increases on websites or content pages, the ranking simultaneously increases as well. When the right keywords, meta tags are being implemented, content appears directly to the prospect reach. Getting organic traffic is necessary for reasons such as it helps in the growth in the long run. In order to receive organic traffic, the necessity develops in finding the right SEO activities to be conducted well. For that to happen the right data from various sources as well as prospect reviews and opinions matter.
Conducting the action manually consumes a lot of time and effort hence web scraping helps in extracting all the information and save it in your system on behalf of you. With tons of information being scraped, it is important that no kind of tricks can give way that this action is being conducted hence proxy servers assist web scraping with a more secure and better way of managing this process. Proxy servers can help to scrape to take place from any website or other sources even from geo-restricted locations all while tricking strict rules that the action is considered from the user that has access to it.
FACTORS TO KEEP IN MIND WHEN PURCHASING PROXIES FOR SEO ACTIVITIES
1. USER-FRIENDLY SOFTWARE
There are many proxy servers available in the market which aren't difficult to use. Conducting efficient SEO activities and using proxies for monitoring takes up a lot of work and having a proxy server that is difficult to use makes it even more uncomfortable for brands to commence their planned strategies. Hence always ensure that you have invested in a proxy server that suits your system, is easy to understand and makes your SEO monitoring much easier to conduct. 
2. SECURITY
You don't want to be caught when your fellow competitors find out that you were trying to access their SEO keywords nor would you like it if you have malicious websites trying to engage you with fake information. Proxy servers act as a shield to prevent the above situations from happening. Instead of any website trying to access you, proxy servers work as a protective wall to analyze it first. Before purchasing a proxy server ensure the security features work well.
3. IP ADDRESSES
When accessing information, if your IP gets blocked due to accessing a restricted website, chances are you can never go further with it. Hence to avoid that invest in proxy servers that give you the liberty to hide your IP address and as well as offer you a new one whenever you want to access information from another account. The main root cause of capture is through IP addresses. With proxy servers, hiding IP addresses becomes easier. For instance, you need a website to be accessed, you send the request and the proxy server receives it. The website you want to access allows only its location users to access it so the proxy server will change your IP address and reflect it in a way that it will show you as a user from the website location.
4. ACCESS TO GEO-RESTRICTED LOCATIONS
SEO monitoring works better when you can share the solutions you have to all your target audiences. But with geo-restrictions, few locations are banned from even viewing. At times to conduct efficient SEO activities and to have further outreach retrieving information from certain locations can help. Hence ensure that you invest in a proxy server that gives you the options to access multiple geo-restricted places for better SEO activities to be conducted. 
5. FASTER SPEED
When conducting web scraping activities for SEO, you don't want to spend hours together to retrieve quality information right? So instead invest in a proxy server that has a good bandwidth and internet speed so that when your planning and implementing lead driven activities, you also are retrieving quality information at a faster rate. 
6. PAID PROXY SERVER
A free proxy server sounds great but did you know since it is free it will be used by multiple users which not only causes the speed to slow down but the security isn't that support as well. Always ensure that you invest in a paid proxy server that fits in your budget as well as gives you great benefits in return. Many paid proxy servers have all the above features and help brands conduct efficient SEO monitoring with good security and ease.